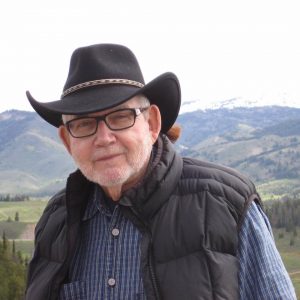 Purpose and Criteria: Established in 2018 by his family to honor his memory and vast contributions, the Norman M. Weinberger Award will support an exceptional graduate student that embodies Professor Weinberger's high standards for doctoral trainees.
Dr. Norman M. Weinberger, founding UCI faculty member and respected mentor, began his university career on January 1, 1965, just 8 months before the doors opened to the first UCI students later that September. Prof. Weinberger was also a founding member of the Center for the Neurobiology of Learning and Memory, and led the planning of much of its activities including the construction of its buildings and conference facilities.
Dr. Weinberger loved serving as a professor and teacher to countless graduate and undergraduate students. His legacy lives on in his trainees who have themselves become influential leaders in the field of neuroscience. He was also passionate about public service and writing articles for the general public on the importance of music education and explaining contemporary findings in music science. He authored and published 19 editions of the Music and Science Information Computer Archive (MuSICA).
Eligibility: Must be a graduate student who is in the laboratory of a CNLM Fellow on the UCI campus.
Awards available: 1 or more $1,000 awards
Requirements: CV/resume (max 2 pages), unofficial transcript and personal statement addressing research accomplishments.
---
Learn more about Professor Weinberger in by reading One Man's Lifelong Odyssey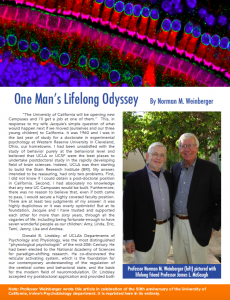 Wing (Winny) Ning

 (Advisor: Dr. Bruce McNaughton)
"Cracking the memory code: how the brain encodes the context and content of experience"

Erica Ramirez

 (Advisor: Dr. Stephen Mahler)
"What gets you motivated? Neuronal populations involved in reward and aversion"

Batool Rizvi

 (Advisor: Dr. Michael Yassa)
"Let's not forget about white matter hyperintensities in aging and Alzheimer's disease"

Alyssa Rodriguez

 (Advisor: Dr. Marcelo Wood)
"Making memories: understanding how the brain adapts with age"


Sydney
Prange
 (Advisor: Dr. Katherine Thompson-Peer)
"Dendrite regeneration: a potential avenue to prevent neurodegeneration"


Nora
Bradford
(Advisor: Dr. Megan Peters)
"Assessing and improving metacognition in the classroom"

Keiland Cooper

(Advisor: Dr. Norbert Fortin)
"Linking memories into networks, one sniff at a time"
Morgan Coburn 
(Advisor: Dr. Mathew Blurton-Jones)
 "Human cells in a mouse brain: a better way to study Alzheimer's disease"

Angeline Dukes
Her research focuses on the long-term consequences of adolescent cannabinoid and nicotine exposure.