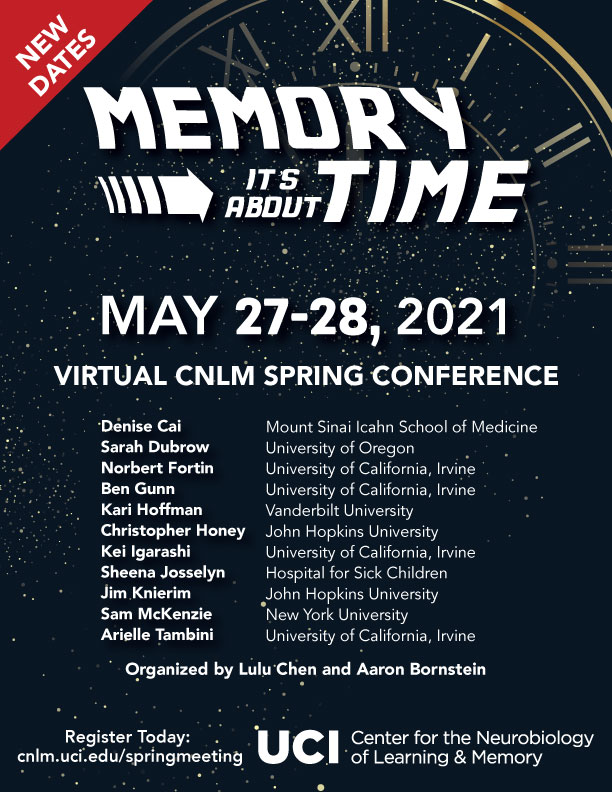 Memory: It's About Time Virtual Conference
May 27, 2021
9:00 a.m. - May 28, 2021
2:30 p.m.
Free
May 27 & 28, 2021
9:00 a.m. – 2:30 p.m.
Memories are the record of our experiences, but they also shape them. We now know that memory recall is a fundamentally constructive process, reassembling multiple views of past experience to interpret the present and imagine the future. The three symposia for this year's Learning and Memory meeting will examine recent and ongoing research building this new, dynamic, multi-scale understanding of memory. The first," Connections and Components," will investigate the ways in which neural circuits are "hard-wired" to encode certain features of experience and what this means for how and what we remember.  The second, "Construction and Formation," will examine the fundamental building blocks of memories as they are encoded and reshaped by later experience. The third, "Sequences and Structures," will discuss how memories link together to reflect the regularities of the world around us. Discussion sections will synthesize the findings we've learned about and sketch out new directions for memory research in the years ahead, including implications for neurological disease.
For more information, please visit: https://cnlm.uci.edu/2021-spring-conference/