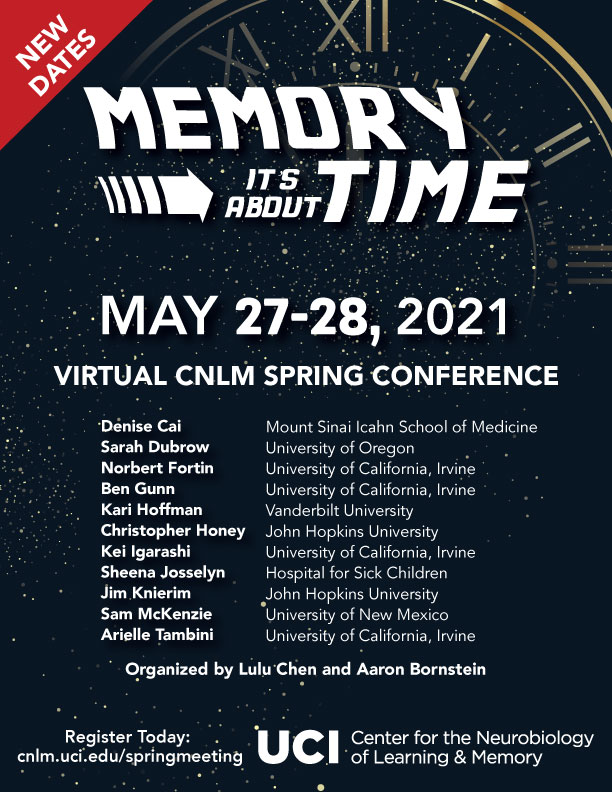 2021 CNLM Spring Meeting
Memory: It's About Time
May 27 & 28, 2021
Virtual Conference
9:00 a.m. (Pacific Time)
Program Chairs:
Aaron Bornstein and Lulu Y. Chen
Organizing Committee:
Sunil Gandhi, Heechel Jun, Sarah Kark, Diana Lofflin, Manuella Yassa, and Michael Yassa
Cost:
Free!
Registration will first be open to CNLM Fellows and their laboratories, as well as alumni and guests. Early registration is encouraged.
Memory: It's About Time Spring Conference 2021 Recordings
Welcome and Introduction
Conference Co-Chairs: Lulu Y. Chen & Aaron Bornstein
Session 1: Connections and Components
Moderator: Lulu Y. Chen
Denise Cai (Mount Sinai Icahn School of Medicine) (Watch Video)
The brain in motion- how ensemble fluidity supports memory-updating
Ben Gunn (UC Irvine) (Watch Video)
A network analysis of the hippocampus
Kei Igarashi (UC Irvine)
Circuit dynamics of the entorhinal cortex in associative learning

Sheena Josselyn (Hospital for Sick Children) (Watch Video)
Neuronal allocation to an engram supporting a fear memory
Memory Mingle
An opportunity to connect with fellow conference attendees. 

Game rooms:
Visiting rooms: A place for conversation and discussion.
Coffee Bar
Back to the Future Room
Session 2: Construction and Formation
Moderator: Liz Chrastil

Kari Hoffman (Vanderbilt University) (Watch Video)
The difference a year makes: a retrosplenial retrospective in macaques
Jim Knierim (Johns Hopkins University) (Watch Video)
Parallel processing streams through the hippocampal transverse axis
Sam McKenzie (University of New Mexico) (Watch Video)
Preexisting hippocampal network dynamics constrain optogenetically induced place fields
Arielle Tambini (UC Irvine) (Watch Video)
Tracking the emergence of hippocampal and cortical memory representations across months of learning
Session 3: Sequences and Structures
Moderator: Aaron Bornstein
Sarah Dubrow (University of Oregon) (Watch Video)
Medial temporal lobe contributions to temporal memory precision across months

Gabriel Elias in place of Norbert Fortin (UC Irvine) (Watch Video)
Hippocampal ensembles represent sequential relationships among an extended sequence of nonspatial events
Christopher Honey (Johns Hopkins University) (Watch Video)
Timescales of natural and artificial intelligence
Award Ceremony & Closing Remarks
*All times in Pacific Time