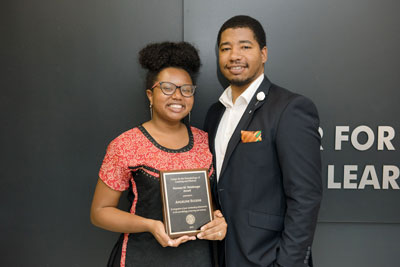 Virtual Young Scholars Award Ceremony – 2020
May 20, 2020
4:00 p.m. -
6:00 p.m.

Join us for the 2020 CNLM Virtual Award Ceremony to celebrate young scholars on Wednesday, May 20, 2020
Each year, the Center for the Neurobiology of Learning and Memory (CNLM) offers awards to exceptional postdoctoral researchers, graduate trainees, and undergraduates students. Recipients receive awards of up to $1,000 and will present their work in brief, elevator pitch format to the CNLM community.
Due to recent COVID-19 outbreaks and concern about the safety of attendees, the CNLM will host a virtual award ceremony via Zoom Video Conferencing. Awardees will pre-record their presentation and will be available to answer questions about their research.
For those in our community who have not participated in a Zoom event, we have put together a Zoom Event Guide to help you get started. We recommend setting up Zoom on your computer or device prior to joining the event. After you RSVP for the event, you will receive an email with information on accessing the Zoom meeting.
For more information on the awards and to browse past recipients, please visit: https://cnlm.uci.edu/awards/