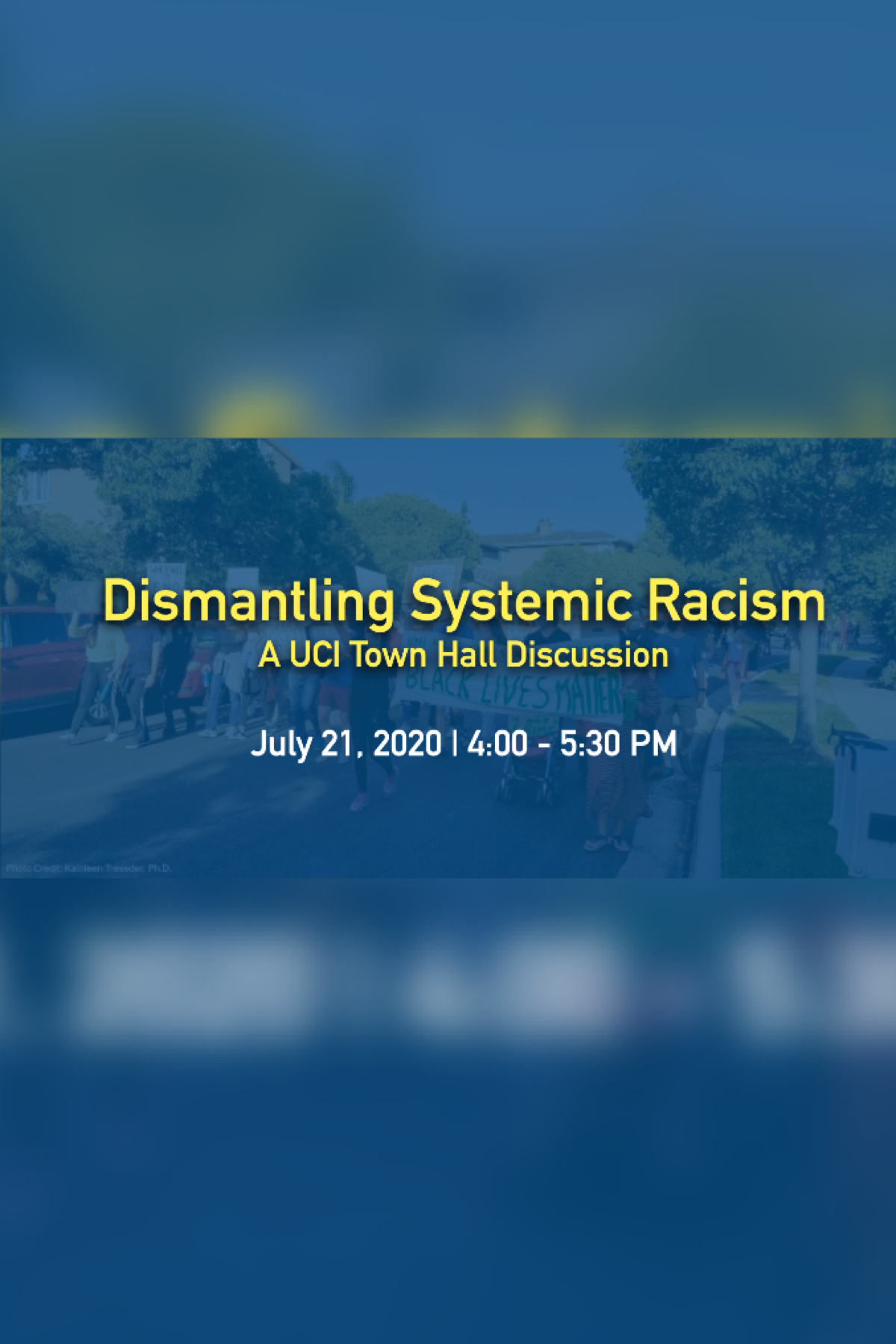 Dismantling Systemic Racism – A UCI Town Hall Discussion
July 21, 2020
4:00 p.m. -
5:30 p.m.
Dear colleagues,
It has been a few weeks since you last heard from me, but a lot has been going on in the interim. The summary report from our #ShutDownSTEM Town Halls was made available on June 15th. Since then, we have had over 700 individuals sign up to our BLM Mailing List and 170 volunteers sign up to join the BLM Working Groups. This is a tremendous response!
We have also received much support from campus leaders and UCI's administration. We are now ready to move forward on charging the working groups and making progress on our goal to dismantling systemic anti-Black racism on campus.
Our next town hall, scheduled for July 21st at 4:00PM, will be a kickoff meeting for these efforts. We will be joined by Vice Chancellor for Equity, diversity and Inclusion and UCI's Chief Diversity Officer, Dr. Douglas Haynes, who will address the group and provide an overview of campus efforts and plans to dismantle systemic racism.
The goal of the town hall will be to discuss how we can harness the grassroots effort and goodwill that has sprung up across the whole campus and the strong desire across numerous stakeholder groups to be part of the process of making a difference, while capitalizing and building on our campus' achievements in this area as well as strategic plans for diversity, equity, and inclusion as embodied in the Office of Inclusive Excellence Action Plan.
We will discuss working group structure and leadership as well as the process by which the groups will be supported, expectations for their deliverables, and next steps for how to implement their recommendations.
It will be an exciting meeting, and we hope you all can join us. Please click below to register for the event and you will receive the zoom meeting information the morning of the town hall.
I look forward to seeing you all soon. If you have any questions or concerns, please don't hesitate to email me.
Sincerely,
Michael A. Yassa, Ph.D.