NeuroScholars Program launches search for second cohort of undergraduate brain scholars
By Diana Lofflin
The Center for the Neurobiology of Learning and Memory (CNLM) kicked-off the search for the second cohort of NeuroScholars by hosting an information session with key faculty and student participants on Feb. 5, 2020.
The NeuroScholars Program was started in 2019 by Dr. Sunil Gandhi, CNLM associate director, to connect upper level undergraduate students to the resources and community needed for success. "The path of a student looking for research experience seems straightforward; arrive at campus, connect with a professor, learn basic skills, secure funding, and make amazing discoveries. However, in reality it is much more difficult."
Dr. Gandhi explains that students will face many setbacks. They may not receive responses when they reach out to labs, or they may not have the lab experience to perform research. However, the most crucial setback a student may face is not having a network of peers and mentors to help them navigate the unwritten code of conduct that helps students acquire experience, jobs, and mentorship.
That's where the NeuroScholars Program steps in.
Dr. Gandhi describes the program as "an interest-based group developing together to get on the career and academic pathways they would like to pursue." The program has three components; a dedicated course available only to NeuroScholars, faculty mentorship, and internships in local biotech startups and health clinics that serve the medically underserved.
The Transparent Brain Lab Course gives the participants the 'bench' experience they need for faculty-sponsored research projects and in their career. "This is not your typical lab course. There is no lab manual," said Sharmin Shanur a cognitive science and biology major and NeuroScholar. "You are learning beside your professors and your peers."
Yessenia Gallegos, a biology student NeuroScholar, said "Besides the research experience, you also build relationships. You learn how teach others. You will still stumble, but you learn to carry on."
Learning how to talk to professors and teach your peers is another one of the unwritten skills the NeuroScholars learn by participating in the program. Many students have found that by engaging with the faculty mentors, they received valuable insight and advice on their career trajectory. Jordan Zhang, a neurobiology NeuroScholar explained," I applied to the NeuroScholars program because Dr.  Gandhi and Dr. Kadandale (the co-director of the program) are both genuinely very caring when it comes to support and mentorship. I just knew this program would be beneficial for a lot of students. There are only so many ways we can give back at this stage in our undergraduate career and this is one of them."
Participants also receive opportunities to network and apply for positions with hospitals, clinics, and up-and-coming startups through the University Lab Partners program. "When I'm reviewing applications for physicians to join AltaMed, I'm looking for candidates with the exact experience NeuroScholars will receive," said Dr. Roger Liu, an external advisor for the NeuroScholars Program. "I'm looking for students with the background, self-awareness, and a strong network that will prepare them for success in any path they choose."
Dr. Liu goes on to explain, "Seventy-five percent of my success is from bumping into the right people at the right time. If it wasn't for them, I wouldn't be here today."
One of the hallmarks of the program is supporting underrepresented minorities in gaining access to research and networking experience. The program was designed bring in students who are passionate about the brain, but who do not necessarily have the roadmap for success. "We are not looking for students who have conducted research in high school," said Dr. Gandhi. "We are looking for students who want to forge their own path and are seeking mentorship and support for their journey."
Another way this program sets itself apart is that transfer students and students from all disciplines are encouraged to apply. The makeup currently is about 1/3 social science students, 2/3 biology students and one engineering student. "It's very important and we are very excited to bring in people outside of the biological sciences. It's the psychology, physical sciences, engineering, and even students from the arts that are very important participants in the enterprise of understanding the brain," said Dr. Gandhi. "The practical matter is that psychology or engineering students sometimes want wet lab experience, but don't have a good pathway to it. This can be their path."
Currently, the NeuroScholars Program can only accommodate less than five percent of applicants. To find ways to support this innovative program, visit UCI's Brilliant Future website.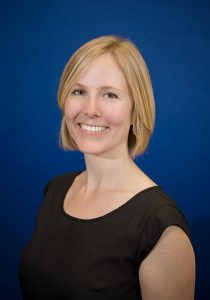 Diana Lofflin
Diana is the Director of Strategic Communications at the Center for the Neurobiology of Learning and Memory. She specializes in leveraging technology and design to make complex concepts accessible to a general audience. Her diverse skillset -- including strategic planning, graphic design, website development, and social media strategy -- has been instrumental in bringing the important work happening at the CNLM to a larger audience.
The NeuroScholars Program was designed to enrich the upper-division undergraduate research experience at UCI. The program is open to undergraduate and transfer students from all majors, schools, and disciplines.
The program is accepting applications through March 30, 2020.