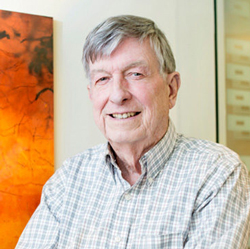 Roger Nicoll, M.D.
October 24, 2023
11:00 a.m. -
12:00 p.m.
Free
Join us for a hybrid event featuring Dr. Roger Nicoll, professor of cellular and molecular pharmacology at the University of California, San Francisco.
This event will be held in-person in the Herklotz Conference Center and virtually via Zoom.
The Biochemistry of Memory: A (not so) New and Specific Hypothesis
Event is jointly sponsored with the Anatomy and Neurobiology Seminar Series.

Description:
CaMKII and long-term potentiation (LTP) were discovered within a decade of each other and have been inextricably intertwined ever since. In 1984 Francis Crick proposed that a memory molecule should possess two properties. First, it should be a multimeric protein with identical subunits that can phosphorylate one another. Second, to address how memories outlast molecular turnover he proposed that naïve unphosphorylated subunits could exchange into the phosphorylated multimer and become phosphorylated. Within two years biochemical studies established that CaMKII satisfied the first prediction. Recent biochemical studies have shown that unphosphorylated CaMKII subunits can exchange into phosphorylated CaMKII multimers, thus satisfying Crick's second prediction. My talk will focus on linking the biochemical properties of CaMKII to LTP. I will show that the autophosphorylation of CaMKII maintains LTP (memory) by establishing a stable CaMKII/NMDA receptor complex, resulting in the synaptic capture of AMPA receptors. LTP survives the protein turnover of CaMKII, which is complete within 2 weeks, by its phosphorylation of newly synthesized naïve CaMKII molecules.