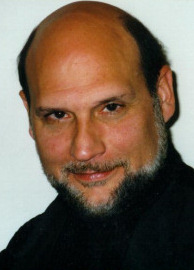 This webpage was established to honor John W. Haycock; friend and mentor to many, and an influential scientist.
John's family has established a memorial graduate student award named for John in the Center for the Neurobiology of Learning and Memory at UC Irvine. John was a graduate student and received his Ph.D. from UC Irvine before going on to do research and teach at several universities, including The Rockefeller University. The purpose of the John W. Haycock Memorial Graduate Student Travel Award is to provide funding to outstanding graduate students in neuroscience to travel to the annual Society for Neuroscience meeting. This is the most important and informative annual meeting for neuroscientists world-wide, and one that John, himself, greatly enjoyed attending.
JOHN W. HAYCOCK, Ph.D.
John Winthrop Haycock was born January 16, 1949.   He made many important contributions to our understanding of molecular and cellular processes, and he mentored many developing scientists.  John graduated with a B.S. in Physiology and Psychology from Michigan State University in 1971, and went on to further studies at UC Irvine.  At Irvine, he earned his Ph.D. in Psychobiology in four short years, a truly remarkable accomplishment, and received a number of prestigious teaching awards along the way.  After leaving UC Irvine, John took a teaching position at the University of Texas.  There, he not only taught and did research, but won several medals for his chili cooking!
In 1983, John moved to Rockefeller University as a senior research associate. There he was mentored by Dr. Paul Greengard, Nobel Laureate for studies of protein phosphorylation in the central nervous system.  This training started John on the road to his own studies for which he would become internationally recognized, his studies of multiple-site phosphorylation of tyrosine hydroxylase using phospho-specific antibodies. From Rockefeller University, John joined the faculty of Louisiana State University Medical College, where he flourished as a researcher and teacher from 1985 to 2005.
After Hurricane Katrina devastated his labs in Louisiana, John retired from LSU and moved to Colorado to help co-found a biotech start-up called PhosphoSolutions, LLC.  As Chief Scientific Officer at PhosphoSolutions, John helped the company develop a state-of-the-art facility for the production of phospho-specific antibodies.  These antibodies greatly accelerate drug discovery and research in neurological diseases such as Alzheimer's and cancer.
If you would like to support this lasting legacy in John's honor, please:
Click here to be directed to the UC Irvine Online Giving Page.
(be sure to indicate that the gift is in memory of John Haycock)
Or
Send a check made out to: UCI Foundation
You may send the check to:
Haycock Award
320 QRL, CNLM
UC Irvine
Irvine, CA 92697-3800
Thank you very much for your contribution to John's legacy, and we will inform John's family of your kind support.