Dear CNLM Community,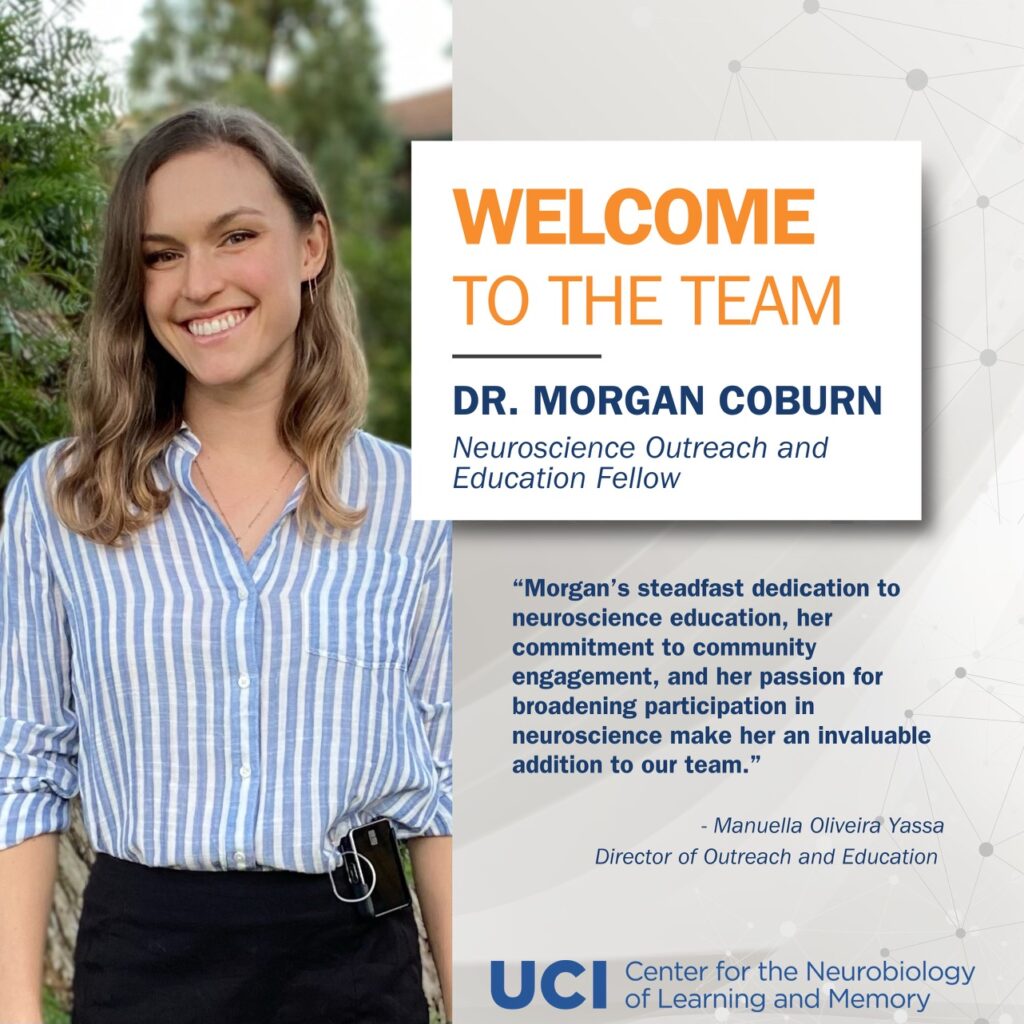 I am delighted to introduce Dr. Morgan Coburn as the newest member of the CNLM Team! Morgan officially joined us September 1st as an Outreach and Education Fellow. In this capacity, she will be working closely with me to advance the Outreach and Education initiatives of the CNLM.
Morgan earned her Bachelor's degree in Neuroscience from Mount Holyoke College. She then pursued her doctoral work at UCI in the Blurton-Jones lab, focusing on the role of microglia in the brain, with specific emphasis on their involvement in the progression of Alzheimer's disease.
Beyond her doctoral research, Morgan was actively engaged in the first cohort of the CNLM Ambassador program and played an instrumental role in shaping our outreach and education programs. Notably, she collaborated with me to develop the first iteration of the Brain Explorer Academy and Brain Camp. BEA is an innovative program which introduced children to the wonders of neuroscience through eight weekly Saturday morning sessions of hands-on neuroscience activities and mentorship from CNLM Ambassadors. This program served as a successful feasibility pilot for the Brain Explorer Academy 2.0,  a new partnership between the CNLM and the Santa Ana Unified School District that has been funded by the NIH Science Education Partnership Award mechanism (stay tuned for more details on this development!).
Morgan's steadfast dedication to neuroscience education, her commitment to community engagement, and her passion for broadening participation in neuroscience make her an invaluable addition to our team. I look forward to working with her to enhance the quality and expand the impact of our programs.
Please join me in extending a warm welcome to Dr. Morgan Coburn as she embarks on this exciting journey with us. Morgan can be reached at macoburn@uci.edu.
Sincerely,
Manuella Oliveira Yassa
CNLM Director of Outreach and Education