RSVP Today! CNLM Colloquium with Laura Ewell – May 9
Sparse to dense networks: pattern separation and completion in health and epilepsy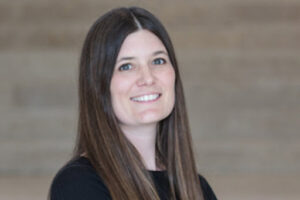 Tuesday, May 9, 2023
11:00 am – 12:00 pm PT
Herklotz Conference Center*
Laura Ewell, Ph.D.
Assistant Professor
Anatomy and Neurobiology
School of Medicine
Event Description
The attractor theory of memory posits that CA3, the recurrent network at the core of the hippocampus, is capable of learning, storing, and recalling ensembles of neurons that represent experience. In healthy conditions there are constraints on the CA3 network that ensure that individual neural patterns comprise a small group of neurons that do not overlap with other patterns. One critical constraint called pattern separation works at the network level – and is thought to be performed by the dentate gyrus. In this talk, I will be examining the network processes of pattern separation and pattern completion through the lens of temporal lobe epilepsy – a disease in which network codes shift from sparse to dense schemes. We will discuss single unit data from freely moving rodents (epilepsy models and healthy animals) and new tasks being developed by my laboratory to study these critical memory processes.
About the CNLM Colloquium Series
The CNLM Colloquium Series showcases the latest in learning and memory research. This year, the series will feature the CNLM Faculty Fellows at UCI. Each talk will be held in person at the Herklotz Conference Facility in the CNLM and broadcast widely via Zoom to reach our colleagues around the world. Zoom link will be emailed the morning of the event.
Find out more about the series by visiting:
cnlm.uci.edu/colloquium