2023 Irvine Brain Bee engages high schoolers in neuroscience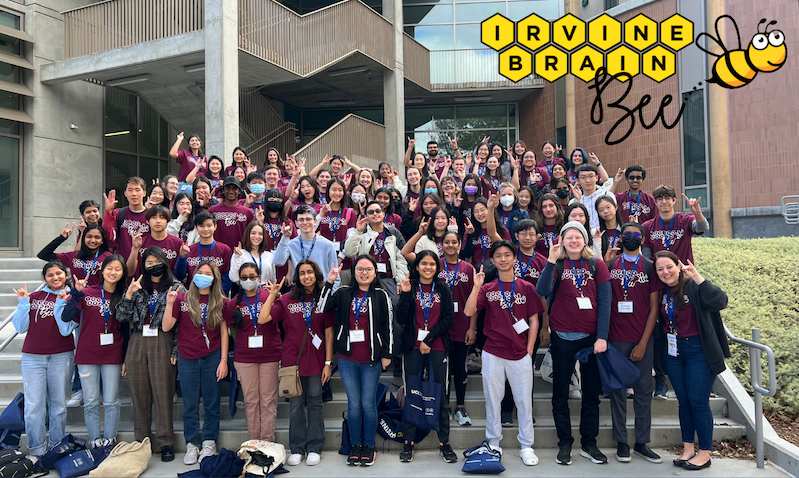 On Saturday January 28, the UC Irvine Center for the Neurobiology of Learning and Memory hosted the 5th annual Irvine Brain Bee, which engaged Southern California high school students in a day of hands-on neuroscience. The Irvine Brain Bee is a chapter of International Brain Bee, an organization founded in 1998 to encourage youth to learn about the brain and pursue careers in neuroscience. Today, there are more than 250 Brain Bee chapters in 49 countries and 6 continents. This year, 46 high schoolers from the Orange County and Los Angeles areas commuted to UCI to compete in a rigorous written exam followed by a brain anatomy practicum. Top scorers of the two-part exam had the opportunity to then compete in the final round. The first place winner of the Irvine Brain Bee will advance to the USA Brain Bee championship in April.
The day began with a written test and brain anatomy practicum where all participants had the opportunity to show off their neuroscience knowledge. After a group photo, students enjoyed lunch with UCI undergraduates, PhD students, and postdoctoral fellows where they chatted about everything neuroscience: possible careers, college life, types of research, and the life of a scientist.
After lunch, it was time for the students to explore the wonderful world of neuroscience! Students rotated in groups through various activities and laboratories. In the neuropsych corner, students tried their hand at the mirror star drawing task that was used by the famous Dr. Brenda Milner to test Patient H.M.'s brain. They also challenged their brains by completing the Stroop task, which is used in the clinic and in research to test the difference in reaction time between congruent and incongruent stimuli. At the brain anatomy table, students had the opportunity to explore preserved sheep and human brain specimens. It's not every day you get to hold a real human brain! At the Backyard Brains table, students captured electromyogram (EMG) signals from their muscles to control a prosthetic "Claw" and to control each other's arms! Students also visited two laboratories. In the lab of Dr. Bruce McNaughton, they learned about silicon probes and two photon imaging and how these tools can be combined with virtual reality to study how memories are encoded in the brain and how these memories get replayed and strengthened during sleep. In the lab of Dr. Sunil Gandhi, students learned where visual input gets mapped onto the brain and how brains can be made clear so that scientists can visualize deep structures and how they are wired together.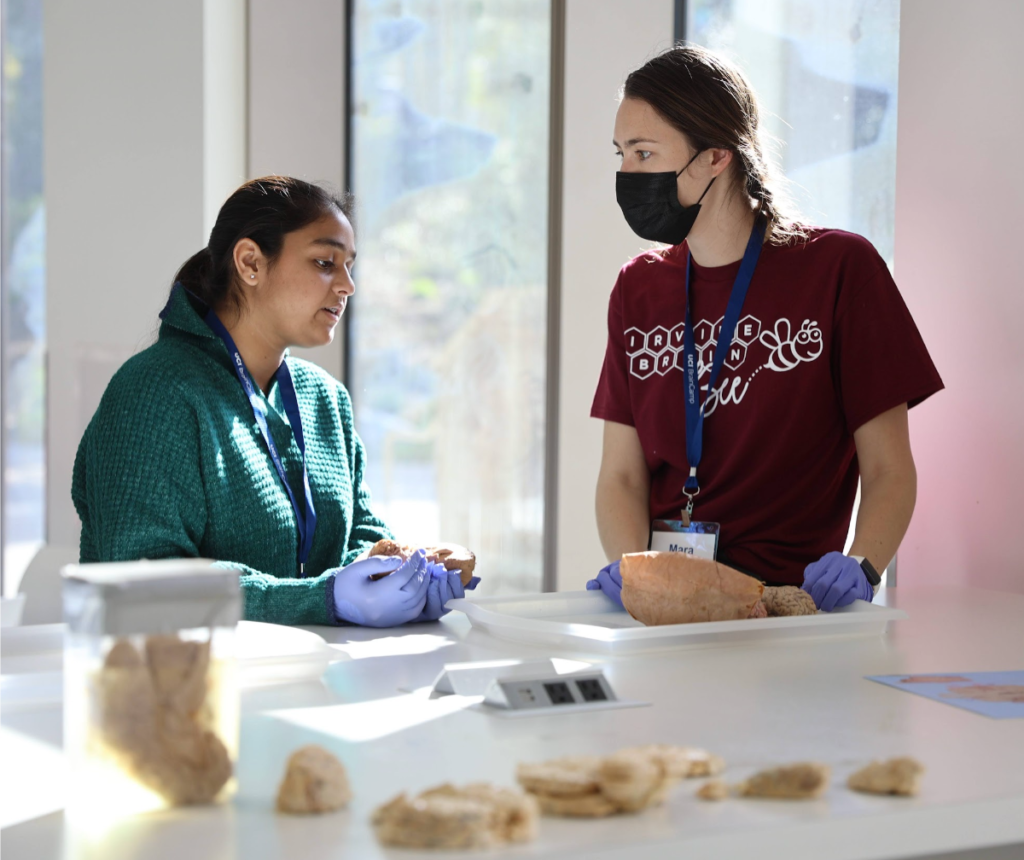 "The lunch and the lab tours were rewarding," said Khanh Khuu, a senior in high school and a first time participant at the Irvine Brain Bee. "I was able to gain a lot of advice from current undergraduate and graduate students regarding their careers. I learned to not stress too much about my future and to enjoy college first. During the lab tours, we saw specific cells [that were labeled with fluorescent proteins] in 'transparent brains.' We also saw laboratory mice. The mice were smaller than I expected!" 
After the activities, the students heard from keynote speaker Dr. Alyson Zalta, CNLM Faculty Fellow and Associate Professor in the Department of Psychological Sciences in the School of Social Ecology. Dr. Zalta shared her path, which took her to Harvard University for her undergraduate studies and University of Pennsylvania for her doctoral degree. In her talk, she explained, as a background to her work, that light has a huge impact on regulating circadian rhythms, and that sleep is disturbed in patients with posttraumatic stress disorder. This led to Dr. Zalta's research question: can morning light therapy be used as a novel treatment for traumatic stress? And if so, how does the process work in the brain? Dr. Zalta is currently studying the effectiveness of morning light therapy and concluded her talk with helpful tips for getting better sleep and decreasing stress levels.
The Brain Bee event concluded with the final competition. 11 finalists answered challenging neuroscience questions, which were scored by three UCI faculty judges: Dr. Eitan Schechtman, Dr. Laura Ewell, and Dr. Javier Diaz Alonso. 
In first place and moving on to the USA Brain Bee competition is Bonnie Nien, a 10th-grade student from Diamond Bar High School. Congrats, Bonnie!
Bonnie's parents were really proud of her and overall grateful for this enriching experience. They shared that their two daughters, both of whom made it to the final round, were exposed to a multitude of new opportunities. "The event is a lot of fun for the students, and it's an opportunity that they don't get at school," said Mrs. Nien. She was happy that her daughters were able to meet many people with shared passions in neuroscience.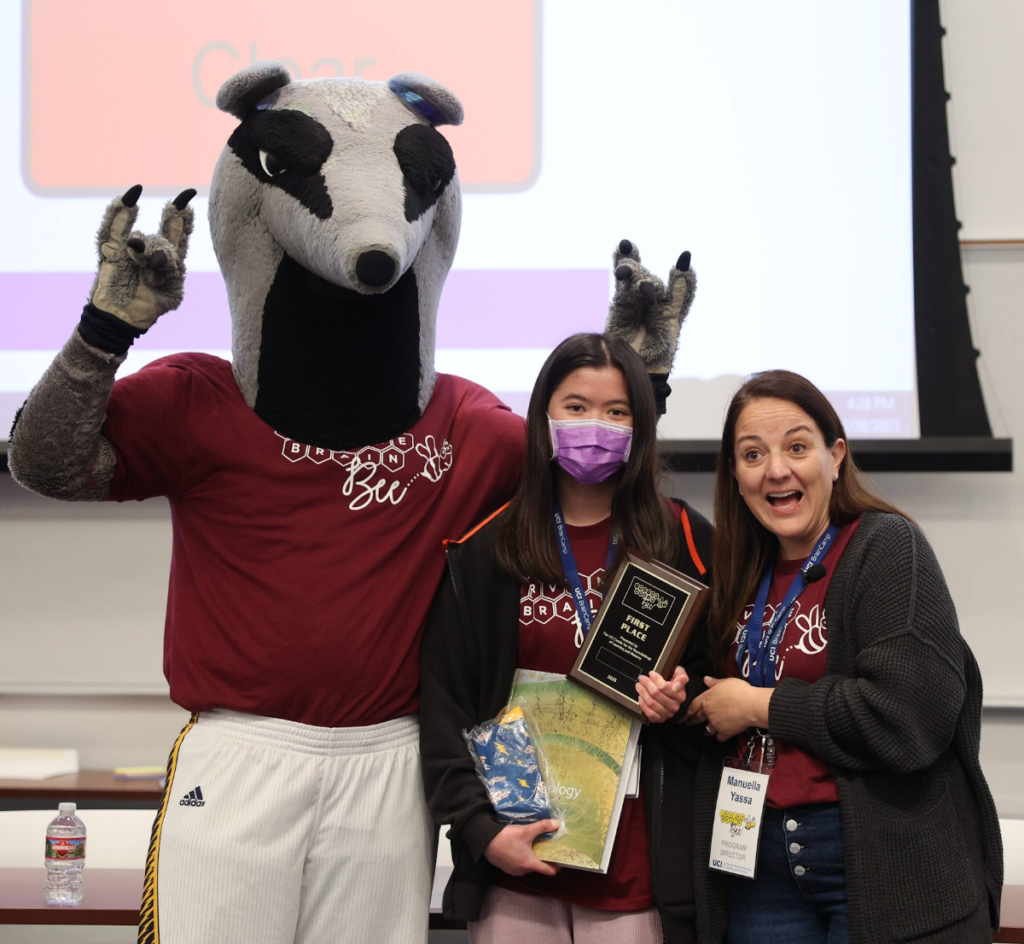 Rishabh Gowda placed second in the final round and is an 11th grader from Troy High School. His favorite part of the competition day was trying the mirror star-drawing task. 
In third place, we have Aadhya Shenoy, a 9th grader from Arnold O. Beckman High School. Her favorite part of the day was holding a human brain, which was bigger and heavier than she initially thought!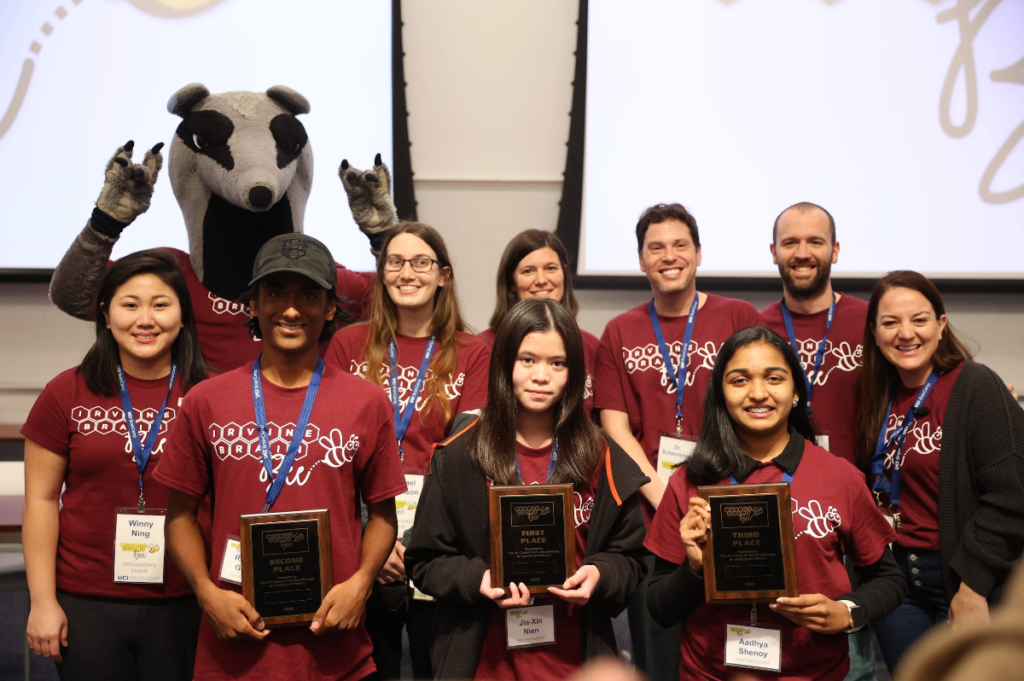 2023 Irvine Brain Bee Finalists
Tiancheng Dong - Northwood High School
Rishabh Gowda - Troy High School
Jessica Hong - Orange County School of the Arts
Khanh Khuu - Westminster High School
Diane Magpayo - Troy High School
Avery Mizrahi - Orange County School of the Arts
Jia-Xin (Bonnie) Nien - Diamond Bar High School
Gloria Nien - Diamond Bar High School
Ethan Peng - Troy High School
Noah Regus - Murrieta Mesa High School
Aadhya Shenoy - Arnold A. Beckman High School
Reflecting back to the day's events, Tiancheng Dong, a 12th-grade student from Northwood High School, mentions that she has been studying for the Brain Bee with the Society for Neuroscience's BrainFacts textbook for almost two years now, and she found it helpful to have supplemented her learning through participating in academic research. But aside from the competition portion, Tiancheng greatly appreciates the opportunity that the Irvine Brain Bee allows for high school students from all backgrounds to gain insight in various neuroscience research techniques. Wendy Lou, an 11th grader who is also from Northwood High School agrees. She expressed that she valued the lab tour rotations the most - it truly is a rare and invaluable experience for any high school student.
The UCI Center for the Neurobiology of Learning and Memory has been selected as the host for the USA Brain Bee later this year. Winners from all USA Brain Bee chapters will join us in Irvine, CA for the three-day national neuroscience competition. Stay tuned for more information!
The Irvine Brain Bee is directed by CNLM Director of Outreach and Education Manuella Oliveira Yassa and is made possible thanks to the CNLM Ambassador Program's Brain Bee Committee, chaired by PhD students Rachael Hokenson and Winny Ning. More than 30 UCI students and postdoctoral fellows volunteered their time to make the Irvine Brain Bee an incredible day of neuroscience for our participants. This year's Irvine Brain Bee was funded by the Friends of the CNLM, individuals in our Southern California community who share our vision for neuroscience education and invest in the future of brain science. Learn more about how you can join our cause at cnlm.uci.edu/gifts.
Participation in the Irvine Brain Bee is 100% free for high school students. Registration for the 2024 Irvine Brain Bee will open in Fall 2023. See you next year!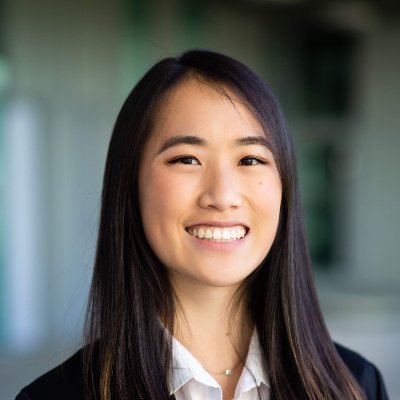 Alina Tu (she/her) is an anteater alumna. She graduated from UC Irvine in 2021 with a B.A. in psychology and a B.A. in quantitative economics. She is now working as a lab manager with Dr. Liz Chrastil in the Department of Neurobiology and Behavior, where she investigates the individual variability in human navigation ability through behavioral experiments in virtual reality and neuroimaging techniques. She strives to be a better science communicator and works towards demystifying STEM careers for girls and other underrepresented students.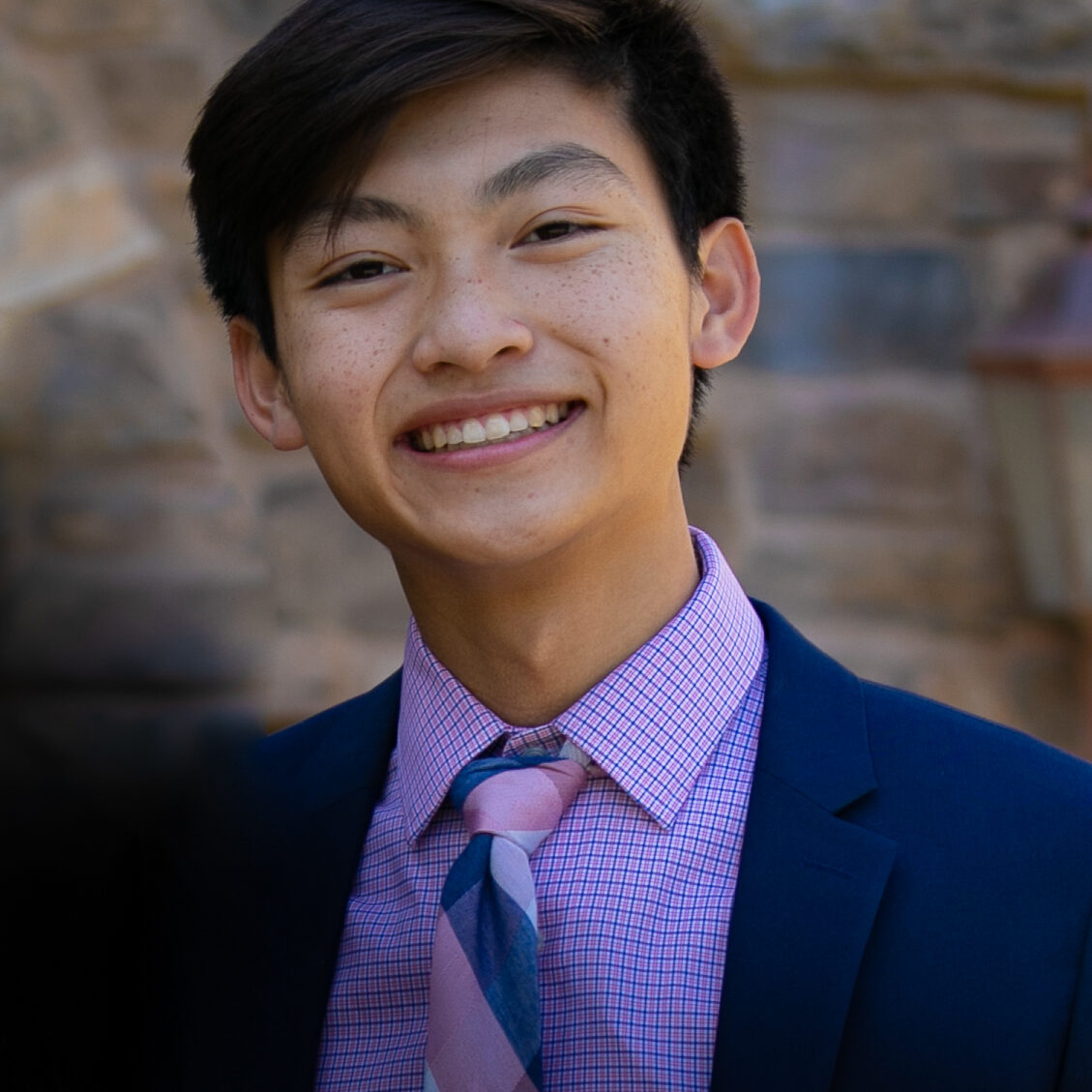 Joshua Nguyen is a UCI undergraduate student studying neuroscience. Joshua is an Irvine native who participated in the Irvine Brain Bee in 2020 as a high school senior and placed 2nd in the finals! He is a research assistant in the laboratory of Dr. Michael Yassa  and is Vice-President of Nu Rho Psi, UCI's chapter of the National Neuroscience Honor Society.  During the Irvine Brain Bee, Joshua combines his passion for neuroscience and talent in photography to capture special moments!