2022 Irvine Brain Bee Inspires Teens to Explore the Brain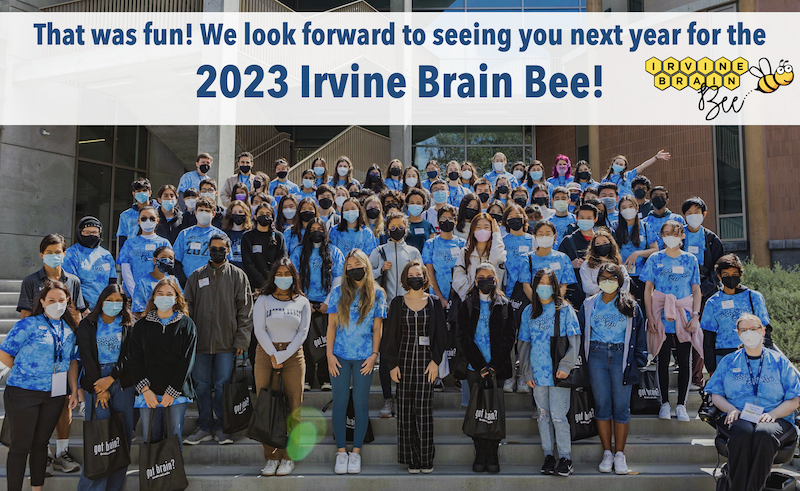 "How can a three-pound mass of jelly that you can hold in your palm imagine angels, contemplate the meaning of infinity, and even question its own place in the cosmos? …This, truly, is the greatest mystery of all." These famous words, spoken by renowned neuroscientist V.S. Ramachandran, capture the imagination of aspiring brain scientists everywhere. Last weekend, a group of nearly 100 high schoolers, neuroscience graduate students, and faculty spent the day marveling at and exploring the wonders of the brain.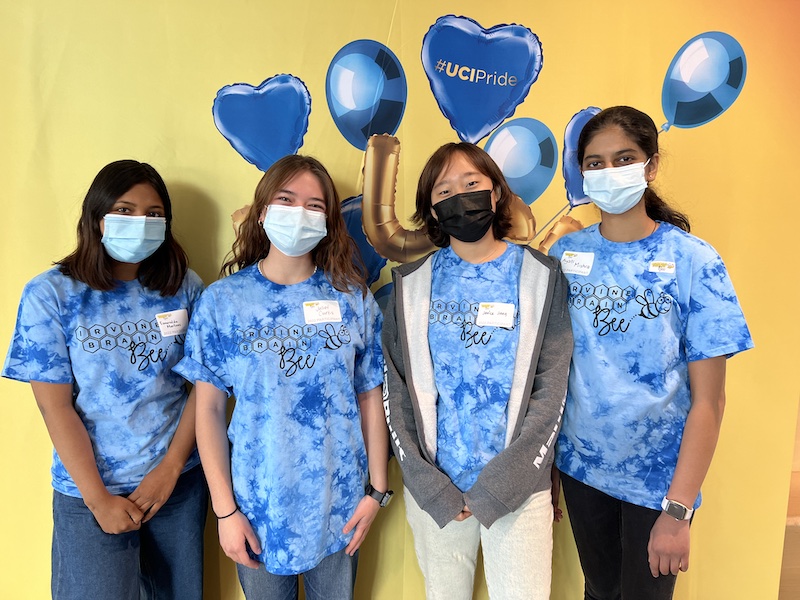 The 4th Annual Irvine Brain Bee was held on Saturday, March 5 at the University of California, Irvine. Hosted by the UCI Center for the Neurobiology of Learning and Memory (CNLM), the Irvine Brain Bee aims to inspire youth to learn about the wonders of the brain, meet neuroscience doctoral students and faculty, and explore careers in neuroscience. The winner of the 2022 Irvine Brain Bee was Tustin resident Siddhant Karmali. This 11th grader was not new to the Irvine Brain Bee, having earned 4th place in 2020 as a 9th grader. Siddhant, who is a UCI Brain Camp alumnus, will advance to compete in the USA National Brain Bee on April 9. The winner of the USA Brain Bee then competes in the World Championships during the summer.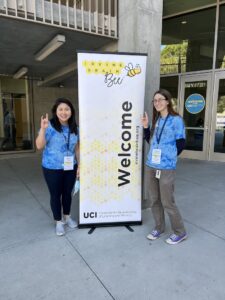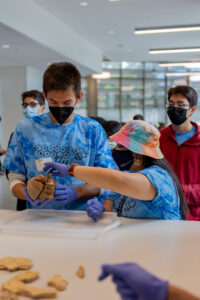 Directed by Manuella Oliveira Yassa and organized by a committee led by neuroscience PhD students Rachael Hokenson and Winny Ning, the 2022 Irvine Brain Bee competition began with a written test and a neuroanatomy practicum. The top ten highest scoring participants were invited to compete in the final round. Participants were eliminated from the final round after incorrectly answering three questions. This year, Professor and CNLM Director Dr. Michael Yassa moderated the final round. He was joined by three judges, all UCI Professors and CNLM Faculty Fellows: Drs. Shahrdad Lotfipour, Momoko Watanabe, and Alyson Zalta. The competition tested participants' knowledge of various neuroscience topics including anatomy, sensation and perception, movement, learning and memory, development, psychiatric disorders, brain injury, neurodegenerative diseases, and brain states.
In addition to the competition, the day included various activities designed to teach students about the nervous system and neuroscience careers. Many held a preserved human brain for the first time. "I think I cried a bit when I got to hold the fixed brain. The experience was unforgettable." describes Orange County High School of the Arts student and Irvine Brain Bee participant Avery Mizrahi. Students also learned about neuropsychological tools that researchers use to understand brain and behavior and practiced controlling each others' muscle movements using brain-machine interfaces, while learning about how neurons communicate.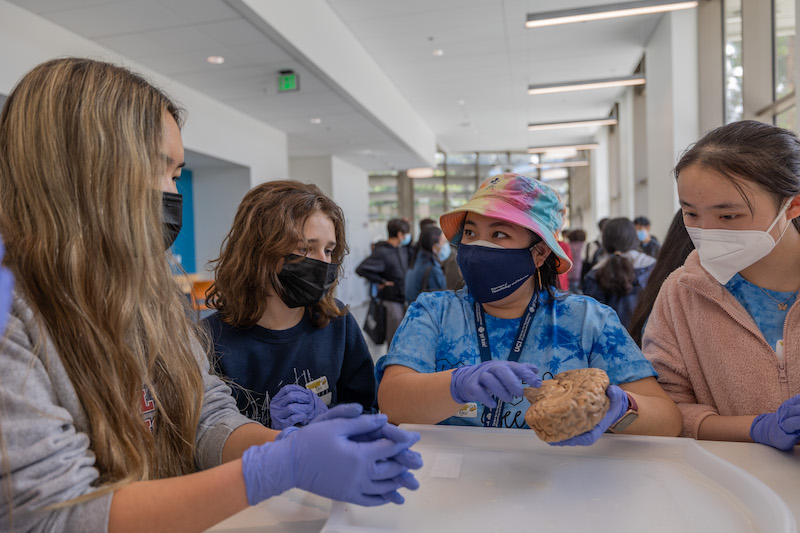 Students learned about spatial neuroscience from Dr. Liz Chrastil who delivered this year's Keynote Lecture. Dr. Chrastil described her research on why some people are good at navigating while others struggle, how we acquire spatial knowledge about the environment around us and how the brain supports these tasks.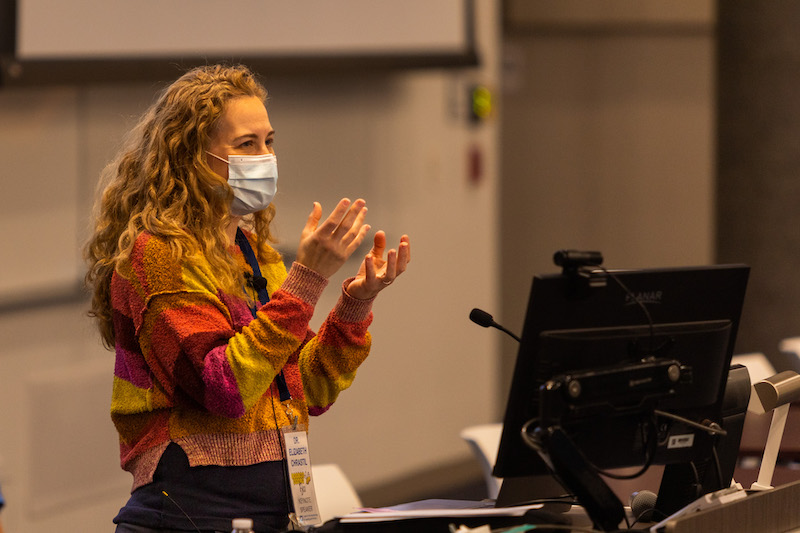 "Especially after competing in a previous Brain Bee, I feel accomplished winning this one. I also feel a lot of respect for my fellow competitors and encourage them to compete again next year. I feel proud that I am able to represent UCI at the National Brain Bee. I will prepare intensely to compete there," reflects 2022 Irvine Brain Bee winner, who aspires for a career in sports medicine or neurosurgery. "We are very proud of Siddhant," says Siddhant's mother, "We are thankful to the UCI CNLM for nurturing his interest in neuroscience ever since the inaugural Brain Camp in 2019."
Earning 3rd place in this year's competition is Brett Brzycki, an 11th grader from Whittier, CA and also a UCI Brain Camp alumnus. Taking 2nd place this year is Troy High School 9th grader Cloris Shi. This was Cloris' first ever Brain Bee!
The following students participated in finals round of the Irvine Brain Bee (in alphabetical order)
- Brett Brzycki
- Tiancheng Dang
- Siddhant Karmali
- Mia Kulinski
- Arul Loomba
- Jacob Lynn (qualified but was absent)
- Bonnie Nien
- Max Peng
- Cloris Shi
- Clarissa Zuo
The Irvine Brain Bee is open and free to all high schoolers. Registration for the 2023 Irvine Brain Bee will open in the Fall of 2022. We hope to see you there!
Thank you to Irvine Brain Camp Alumni and current UC Irvine 1st year undergraduate students Kavin and Joshua who joined us as photographers at this event!