Register Today! Memory: It's About Time CNLM Spring Conference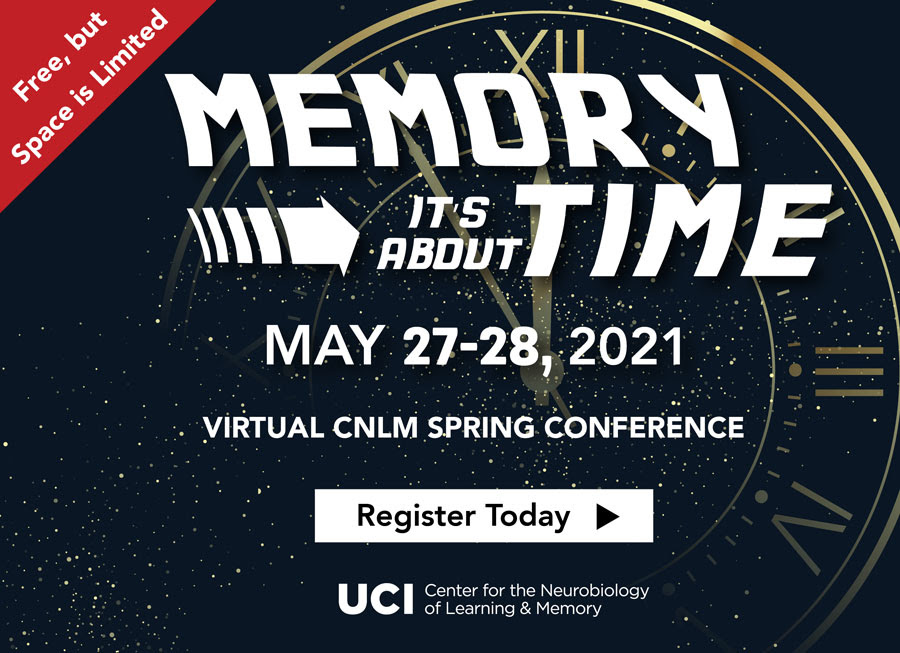 On May 27 & 28, join us for our first ever virtual Spring Conference, Memory: It's About Time. Please visit the link below to register and find out more.
Welcome and Introduction


Conference Co-Chairs: Lulu Chen & Aaron Bornstein
Session 1: Connections and Components
Moderator: Lulu Y. Chen, Ph.D.
The brain in motion- how ensemble fluidity supports memory-updating
Denise Cai, Ph.D. (Mount Sinai Icahn School of Medicine)
A network analysis of the hippocampus
Ben Gunn, Ph.D. (UC Irvine)
Circuit dynamics of the entorhinal cortex in associative learning
Kei Igarashi, Ph.D. (UC Irvine)
Neuronal allocation to an engram supporting a fear memory
Sheena Josselyn, Ph.D. (Hospital for Sick Children)
Memory Mingle


An opportunity to connect with fellow conference attendees.
Session 2: Construction and Formation


Moderator: Liz Chrastil, Ph.D.
The difference a year makes: a retrosplenial retrospective in macaques
Kari Hoffman, Ph.D. (Vanderbilt University)
Parallel Processing Steams through the Hippocampal Transverse Axis
Jim Knierim, Ph.D. (Johns Hopkins University)
Preexisting hippocampal network dynamics constrain optogenetically induced place fields
Sam McKenzie, Ph.D. (University of New Mexico)
Tracking the emergence of hippocampal and cortical memory representations across months of learning
Arielle Tambini, Ph.D. (UC Irvine)
Session 3: Sequences and Structures


Moderator:Aaron Bornstein, Ph.D.
Medial temporal lobe contributions to temporal memory precision across months
Sarah Dubrow, Ph.D. (University of Oregon)
Hippocampal ensembles represent sequential relationships among an extended sequence of nonspatial events
Norbert Fortin, Ph.D. (UC Irvine)
Timescales of natural and artificial intelligence
Christopher Honey, Ph.D. (Johns Hopkins University)
Data Blitz
Graduate students and postdoctoral fellows briefly present their research. Find out more.
Award Ceremony & Closing Remarks
About the CNLM Spring Conference
Since 1984, the CNLM has hosted an annual scientific conference in the spring to discuss recent advances in the field and launch new collaborations and synergies. The conferences include several themed symposia, short presentations by trainees, panel discussions, and keynote lectures. The conferences are highly renowned for their intellectual atmosphere, use of the 50/50 discussion rule, and the special edited volumes that result from them.