CNLM Student Ambassadors Host Panel Discussion:Sleep to Feel, to Think, and to Remember
By You (Lilian) Cheng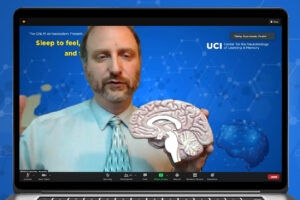 On April 13, 2021, the CNLM ambassadors hosted a virtual panel, "Sleep to feel, to think, and to remember." Three UCI sleep experts, Bryce Mander, Ivy Chen and Frida Corona, shared stories of how they got into sleep research and provided advice on how to improve and better understand our sleep.
From Dr. Bryce Mander, we learned that sleep efficiency matters more than how many hours we sleep. People can continue to have good sleep even when they get older. Having dreams enriches our life! And importantly, if you find your sleep is not good, check with a sleep specialist. It can be fixed.
Dr. Ivy Chen shared sleep hygiene tips: set up sleep routines, get sufficient bright light exposure, engage in activities, and avoid late night caffeine or alcohol. Most importantly, keep a consistent schedule in your everyday life.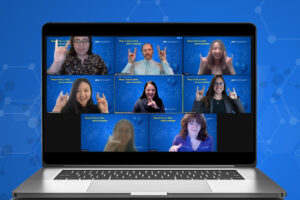 PhD researcher Frida Corona told us that sometimes our environment (e.g., safety) can provide sleep stress, but social contact (such as interacting more with our family) could buffer the stress. She also shared with us her secret tip on what to do when we can't fall asleep: leave the bed to do other activities for 15-20 minutes, so that we could train our brain to dissociate bed from not being able to sleep. And meditation helps!
Find out about future events on mental health from the UCI CNLM Adult Outreach Committee by joining the CNLM e-newsletter.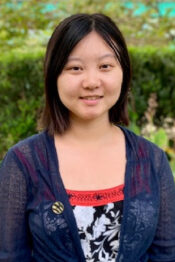 You (Lilian) Cheng is a Ph.D. candidate in the Department of Cognitive Sciences at UCI and a member of the Spatial Neuroscience Lab. Her research focuses on human navigation and spatial cognition. She received her B.S. in Psychology from South China Normal University, M.A. in Geography from the University of California Santa Barbara, and M.S. in Cognitive Neuroscience from the University of California Irvine. She is a science communication advocator. As the co-chair of the UCI CNLM Ambassador Program Adult Outreach Committee, she hosts events to help adults in the Irvine community to learn more about neuroscience.