Virtual Colloquium with Corey Harwell – April 27 @ 11AM
Development and diversity
of neural cell types in the septum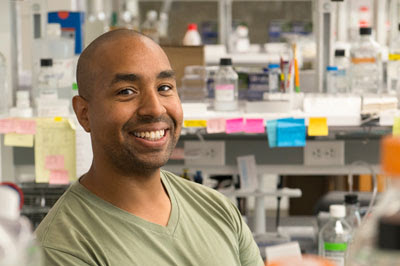 Tuesday, April 27, 2021
11:00 am - 12:00 pm PST
Corey Harwell, Ph.D.
Assistant Professor
Department of Neurobiology
Harvard Medical School
Those who register will receive an email with information on accessing the Zoom meeting the morning of the event. Sign up for other talks on our website:
Event Description:
The septum is ventral forebrain structure responsible for the regulation of emotional states including anxiety, fear and depression. The septum contains an extremely diverse array of short- and long-range projecting GABAergic neurons distributed across its two histological subdivisions, the medial and lateral septal nuclei. Both of these regions are heavily interconnected with other brain areas. It is currently unclear how septal neuronal diversity and circuit wiring are specified during development. Using molecular genetics and single-cell/nuclei RNA-seq we have begun to unravel the developmental logic for producing diverse neural cell types in the septum. Our future work is focused on understanding the specific contribution of developmentally specified neural cell types to the regulation of internal states carried out by the septum.
Invite Your Colleagues
This year, we are opening up registration for the CNLM Colloquium Series to researchers from the broader learning and memory scientific community.