Dr. Thompson-Peer Discusses the Excitement of Pioneering a New Field: Dendritic Regeneration
On Tuesday, January 12th, the UCI Center for the Neurobiology of Learning and Memory (CNLM) welcomed Dr. Katherine Thompson-Peer for a Big Idea talk during the Virtual Evenings to Remember series.
The Evenings to Remember are special events for the Friends of the CNLM – a community of some of the CNLM's most avid supporters. Traditionally, the Center hosts an in-person evening featuring a CNLM Fellow. However, due to the COVID-19 pandemic, the CNLM moved the series online. The goal was to re-create virtually the charm of their traditional Evenings to Remember: an intimate atmosphere, exciting new research, and opportunities to dialogue with researchers passionate about their field.
Dr. Thompson-Peer, assistant professor in the Department of Developmental and Cell Biology and a CNLM Fellow, began her talk by discussing her academic history and research interests as she progressed through her academic trajectory encompassing her PhD work at Harvard as well as post-doctoral position at UC San Francisco. She described how she maintained a "big-picture" view during these formative years in science and imagined her independent research as being in a field that was 'mature although with one detail that people hadn't understood or interrogated.' She thought, at that time, that this would be a good place to make new discoveries.
Amazingly, this is exactly what she did.
Throughout her PhD and post-doctoral position, Dr. Thompson-Peer was interested in how neurons respond to injury. A typical neuron consists of a cell body (the core of a neuron), axons (relaying communication or the 'phone-lines' of a neuron), and dendrites (the antennae of a cell) and together are functionally and morphologically distinct. In this manner, the response to injury in one component of a cell must be very carefully conducted in order to re-establish that working component. However, as Dr. Thompson-Peer dived into the literature, she discovered a largely understudied component of the neuron---the dendrite. Surprisingly, while much research had been dedicated to understanding the regeneration of axons after injury, there was not a lot understood regarding how dendrites regenerate. She described how this discovery unfolded as she attended conferences and asked colleagues what resources she could use to learn more regarding how these antennae respond to injury and was met with very limited answers. Here it was, she had found the hole in the regeneration literature that was begging to be made complete.
As Dr. Thompson-Peer began discussing more about her work in dendrite regeneration she introduced us to new and advanced tools used to systematically injure dendrites with extreme precision. Using cells from the model organism, Drosophila (or fruit fly), Dr. Thompson's laboratory implements the use of a focused two-photon laser to cut dendrites and study their regrowth. She described how the use of this high powered laser is even able to simply injure neurons as well (rather than cutting completely) which provided them with another innovative technique that is not available to other researchers studying other systems. Her work was able to show that, using the two-photon laser to induce dendrite injury, dendrites were able to regenerate and continue to survive after only 72-hours post-injury. Rather than Dr. Thompson-Peer's initial image of her research goals of selecting small details that she could answer, her work now consists of answering three major questions in dendrite regeneration for the first time.
Questions such as…
"What is going on in these neurons after dendritic loss?"

"How does a neuron communicate with other tissue to allow it to regenerate?"
and
"Why do young adults regenerate much quicker than older adults?"
Dr. Thompson-Peer's work is both innovative and exciting in that it is directed at a large gap in our understanding of the health of our brain cells. Now that she has established a foundation for dendrite regeneration, these as well as many other fundamental questions about this process can begin to be answered and understood.  We would like to thank Dr. Thompson-Peer for her work in this field and are excited to see what the future holds regarding this novel and exciting research.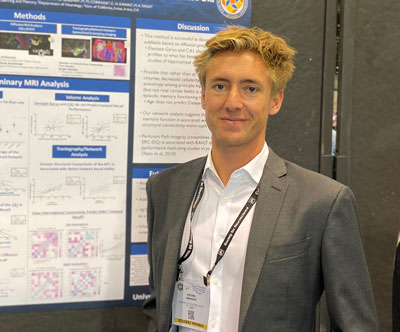 About Steven Granger
Steve is a Ph.D. student and co-chair of the communications committee in the CNLM Ambassador program. He received his B.S. in Psychology from Barrett the Honors College at Arizona State University. He is interested in novel antecedents of psychiatric disorders, noradrenergic influence in emotional memory systems, and neurodegenerative diseases. Feel free to ask Steve about the brain regions involved in emotional memory computations, early life stressors, and innovative ways to study white matter in the human and animal brain.