Passing of Ivan Izquierdo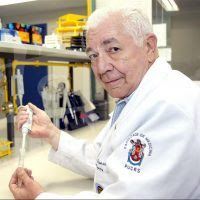 We are deeply saddened to learn of the passing of distinguished CNLM Fellow Dr. Ivan Izquierdo. As many of you know, he was a renowned Argentine Brazilian scientist and recognized as a pioneer in the learning and memory community. He passed away on Tuesday, February 9th at the age of 83 at his home in Porto Alegre.
Dr. Izquierdo was born in Buenos Aires and moved to Brazil in 1973 and had lived in Porto Alegre with his family since 1977. He taught and lectured at several institutions, including the University of Buenos Aires, the Universidade Federal do Rio Grande do Sul (UFRGS), and the Pontifícia Universidade Católica do Rio Grande do Sul (PUCRS), where he was instrumental to the creation of the Brain Institute of Rio Grande do Sul in 2012. He trained multiple generations of Brazilian researchers and became one of the most highly cited researchers in learning and memory worldwide.
Dr. Izquierdo made numerous key contributions to our understanding of the cellular processes of memory storage and retrieval. He was among the first to reveal the roles of epinephrine, dopamine, endogenous opioid peptides and acetylcholine in modulating memory consolidation and state-dependent memory retrieval. Some of his achievements include advancing our understanding of the molecular bases of memory formation, retrieval, persistence and extinction in the mammalian brain, and the functional discrimination between short and long-term memory.
In his sixty years of research and teaching, Dr. Izquierdo has published more than 700 scientific articles and received more than 60 national and international awards for his work, including the Grand Cross of the Order of Scientific Merit, the Conrado Wessel Prize and the commendation of the Order of Rio Branco. In 2018, he also received the UNESCO-Equator Guinea International Prize for Life Sciences Research. The recognition, granted by the United Nations Educational, Scientific and Cultural Organization (UNESCO), recognized Dr. Izquierdo for elucidating the mechanisms of memory processes, leading to an improvement in the quality of human life.
Dr. Izquierdo was also committed to making his scientific findings accessible to a larger audience. He published numerous books including The Art of Forgetting in 2004, a book that was later translated into English. In addition to his scholarship, he also wrote many works of fiction including books, short stories and essays.
We send our heartfelt condolences to Dr. Izquierdo's family and loved ones. He is survived by his wife Ivone, their two children and four grandchildren.
We will pay tribute to Dr. Izquierdo's legacy at our upcoming March 12 Alumni Connect event. We hope you all will be able to join us then.
Sincerely,

Michael A. Yassa, Ph.D.
Director, CNLM 
Sunil Gandhi, Ph.D.
Associate Director, CNLM