UC Irvine launches paid undergraduate summer research opportunity in neuroscience
Prepares students from diverse backgrounds to be leaders in the field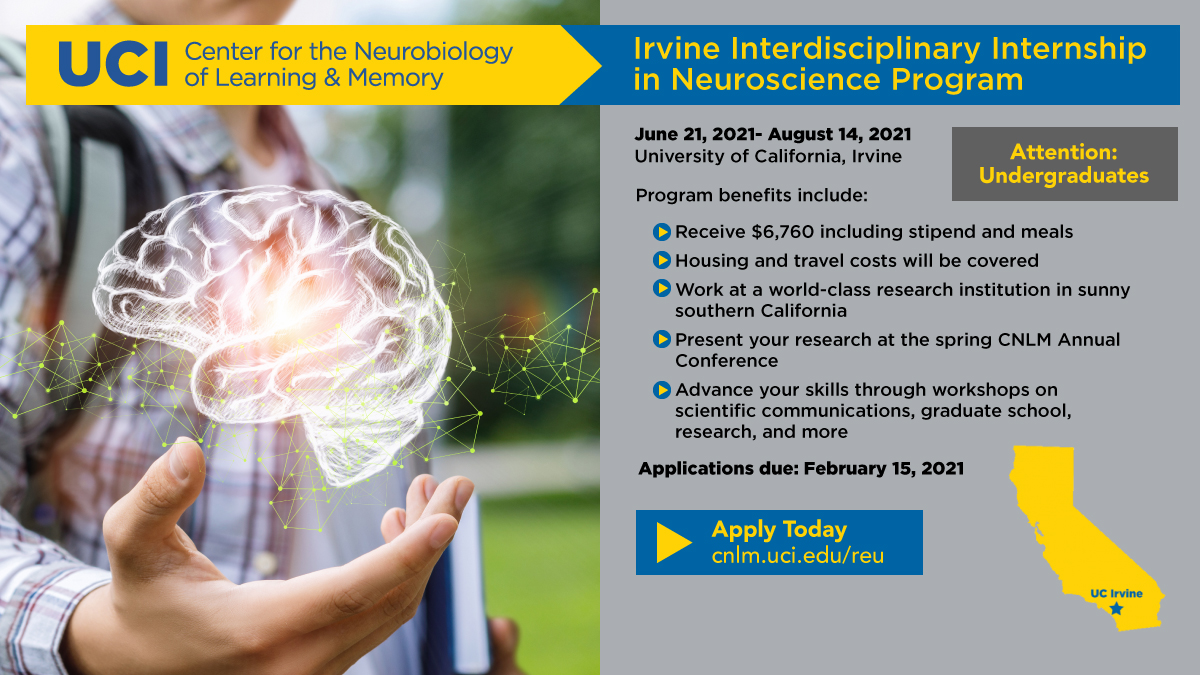 This summer, with support from the National Science Foundation and the U.S. Department of Defense, the University of California, Irvine will launch its first paid undergraduate summer research program in neuroscience. The Irvine Interdisciplinary Program in Neuroscience will host undergraduate students from around the country to experience life as a neuroscientist for eight weeks. Students will conduct research with the guidance and mentorship from the faculty of the Center for the Neurobiology of Learning and Memory (CNLM). In addition to conducting research, they will engage in workshops as well as professional development and networking activities that will prepare them for graduate school and careers in neuroscience. 
Funding for this program comes from the National Science Foundation's Research Experiences for Undergraduates (REU) program and the Department of Defense's Awards to Stimulate and Support Undergraduate Research Experiences (ASSURE) program. Both of these competitive and prestigious programs aim to attract and retain a diverse pool of junior scientists to careers in science. 
"Immersion in research and the research environment is invaluable in shaping the passion and drive for discovery that are necessary for a career as a scientist," says Manuella Oliveira Yassa, Director of Outreach and Education at the UCI CNLM and co-director of the program. "As important as the research itself are the people doing the research, the mentors guiding the process and the peers cheering from the sidelines. In addition to the high caliber research that students will engage in at UCI, I am equally excited about the human aspects of the program that will ensure that the experience is transformative and makes an impact on the lives and careers of the students." 
The program will leverage the strengths of the close-knit community of students in the CNLM Ambassador program who are the heart and soul of the CNLM. The Ambassadors learn, grow and serve together and are instrumental in creating the inclusive, collaborative, supportive and engaging environment where students of all backgrounds will succeed.  
"Being involved in REUs since I was an undergraduate allows me to approach REUs from every perspective", says Luis Colon-Perez, assistant researcher in the department of Neurobiology and Behavior and co-director of the program. "This experience will help students gauge what really drives them as they seek graduate studies and what skills they need to strengthen so they can thrive in graduate school."
Applications are now being accepted and are due February 15, 2021.
For more information about the program, the application process and the information session, please visit cnlm.uci.edu/reu.