How to Introduce a Speaker in a Scientific Seminar
So…you are a junior scientist who has been asked to introduce the speaker for next week's seminar series. "It's an introduction…how hard can it be!" you think while responding with "I would be happy to do it!"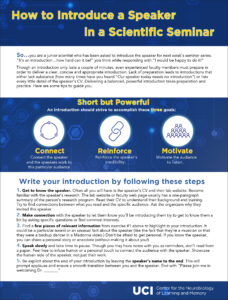 Though an introduction only lasts a couple of minutes, even experienced faculty members must prepare in order to deliver a clear, concise and appropriate introduction. Lack of preparation leads to introductions that either lack substance (how many times have you heard "Our speaker today needs no introduction") or lists every little detail of the speaker's CV. Delivering a balanced, powerful introduction takes preparation and practice. 
Try downloading our step-by-step guide below to learn how to create a short but powerful introduction. 
Following these steps will help you deliver an introduction that can connect the speaker's work to your specific audience, reinforce the speaker's credibility, and motivate the audience to listen.