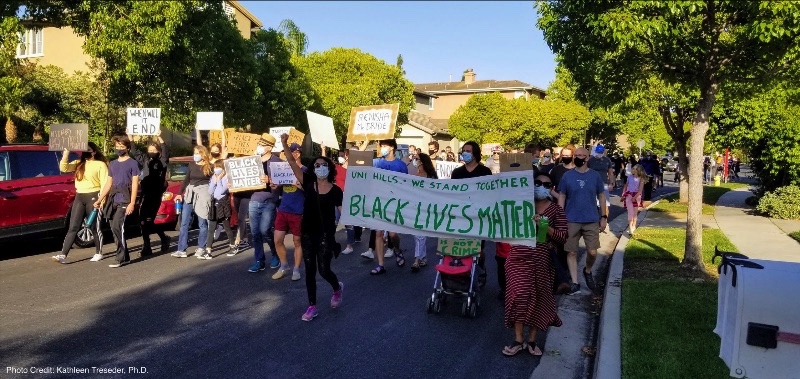 Dear UCI community,
Today, we celebrate and recognize Juneteenth, an occasion that marks the abolishment of slavery in our country. Yet, despite the significance of the occasion, recent events have demonstrated clearly that anti-Black racism persists and continues to take a toll on the lives and livelihoods of Black men and women all around the country.
Last week more than five hundred UCI faculty, staff and students participated in two events designed to address systemic racism on campus. What I saw emerge from these two events is a deep commitment from across campus to uncover and address both personal and systemic racism. We have momentum and positive energy and I hope we can channel it to make sustained change.
The first event was Becoming Anti-Racist: A conversation on becoming a better advisor, labmate, and friend, which was hosted by graduate students Angeline Dukes and Elena Dominguez on June 9th (powerpoint slides and summary report are available upon request).
The second discussion was a set of two virtual town halls held in recognition of #ShutDownSTEM on June 10th titled Dismantling System Racism in STEM.The summary report from this discussion is now available. It forms the background for the next steps outlined below.
It is clear --- there is so much more we must do. At the #ShutDownSTEM Virtual Town Hall, the group collectively decided that we form working groups to begin the necessary process of dismantling systemic racism at UCI. I am happy to continue to coordinate this effort. As you can see from the report, we have identified five key areas, which will form the areas of interest for the work groups. The areas (and corresponding working groups) are:
Implicit Bias and Anti-Racism Training
Diversity in Faculty Hiring and Student Recruitment
Culture, Experience, and Retention
Evaluating Diversity Contributions in Merits and Promotion
STEM Outreach to Black Students
I invite you to apply to join a working group and lend your voice, talent, and resolve to become part of the solution. Once group membership is finalized, each group will be tasked to meet and develop an action plan to address a key area of systemic racism on campus. Our team will  provide tools, logistical support, and coordination to ensure all groups are able to meet their goals. A plan for how to move forward is also included at the end of the town hall report.
We have put together an Anti-Racism Resources website, which includes links to many of the books, videos, and educational resources recommended at last week's events in addition to meeting notes, slides and event reports. I hope you will find it a useful resource.
It is imperative that we stop systemic racism, but we must do this together.
In solidarity,

Michael A. Yassa, Ph.D.
Professor, Neurobiology and Behavior
Director, Center for the Neurobiology of Learning and Memory