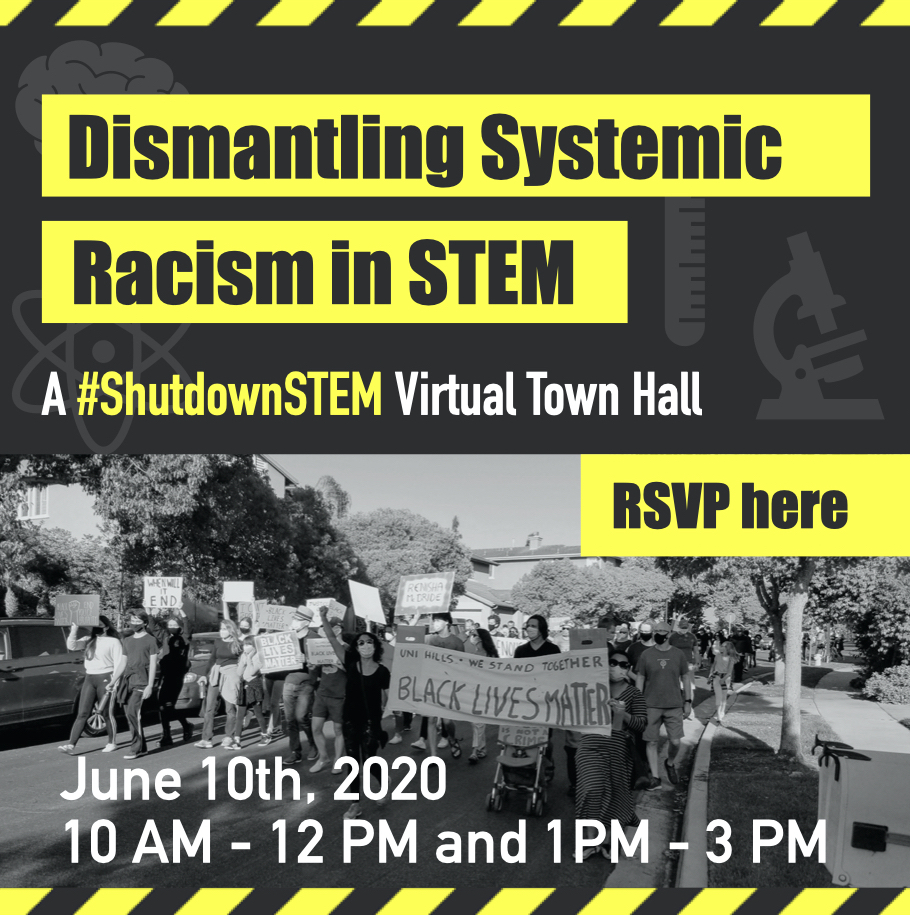 Dear Friends,
Following on my message sent yesterday, we are beginning to brainstorm ways to take action and develop concrete plans to eliminate systemic racism on our campus and in our scientific community.
On Wednesday, June 10th, the Center for the Neurobiology of Learning and Memory is joining the call to #ShutDownSTEM! We urge our colleagues to stop business as usual for a day to focus on actionable plans that work towards ending anti-Black racism. The strike has been co-organized by Particles for Justice and ShutDownSTEM. The goal is:
"For Black academics and STEM professionals, #ShutDownAcademia and #ShutDownSTEM is a time to prioritize their needs— whether that is to rest, reflect, or to act— without incurring additional cumulative disadvantage... #ShutDownAcademia and #ShutDownSTEM is the time for white and non-Black People of Color to not only educate themselves, but to define a detailed plan of action to carry forward."
We will use this opportunity to jumpstart our discussions, develop milestones, and formulate implementation plans in an all-day virtual town hall.
Dismantling Systemic Racism in STEM
Wednesday June 10th, 2020 – A #ShutDownSTEM Virtual Town Hall
The town hall will consist of two facilitated discussions:
Morning session          10am – 12pm
Afternoon session        1pm – 3pm
Both sessions are intended to openly and freely exchange ideas and jointly formulate concrete plans to dismantle systemic racism on our campus. All are welcome to attend one or both. We will maintain a shared live Google doc during the discussions to update those who join during the later session and keep track of our progress.
I look forward to seeing you there.
Sincerely,
Michael A. Yassa, Ph.D.
Director, Center for the Neurobiology of Learning and Memory
#ShutdownSTEM #ShutdownAcademia #Blacklivesmatter