Cutting-Edge Brain Imaging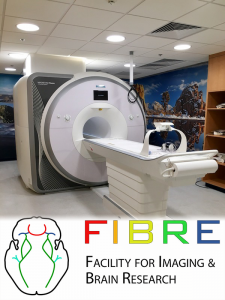 UCI is committed to bringing cutting-edge imaging resources to our research community. In 2017, a partnership between the Office of Research, the School of Medicine, the School of Social Sciences, and the School of Biological Sciences was formed to further develop and integrate neuroimaging across campus. The Campus Center for Neuroimaging (CCNI) includes two human 3T MRI facilities, a PET facility, and a small animal preclinical and translational MRI facility. Led by the CNLM's former director, Dr. Craig Stark, Professor of Neurobiology and Behavior and James L. McGaugh Chair in the Neurobiology of Learning and Memory, the CCNI has recently celebrated the opening of its newest resource, the Facility for Imaging Brain Research
(FIBRE). The FIBRE's flagship research-dedicated MRI machine is a state-of-the-art Siemens Prisma scanner, which will enable the most cutting edge neuroscience research on topics including
cognition, aging, dementia, depression,schizophrenia, and autism. The Prisma scanner is the outcome of a tremendous effort by both Siemens and the National Institutes of Health to develop an MRI machine that is a generation above the current technology. This was done in the service of the Human Connectome Project which aims to provide far greater resolution and detail when mapping connectivity within the human brain.
The resource is also a great example of how all of UCI can partner effectively to bring a resource to the campus that will signi cantly enhance the collective quality of our research. For more information about the CCNI and UCI's new imaging facilities, please visit: http://imaging.uci.edu