Distinguished Professor and CNLM Fellow Bruce L. McNaughton awarded National Science Foundation Grant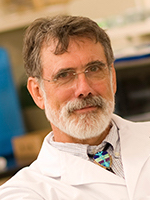 The grant, entitled Hippocampal-Cortical Communication and the Extraction of Knowledge from Memory was on of 18 funded projects from the cross-disciplinary NSF Integrative Strategies for Understanding Neural and Cognitive Systems program. This program supports bold ideas that go beyond single-discipline research efforts in order to advance brain science.  "By encouraging collaborations among investigators from different disciplines, we were able to fund innovative, integrative, boundary-crossing proposals that can best capture the spirit of this opportunity," says Alexander Leonessa, NSF program director in the Engineering Directorate. 
The proposed research hopes to tackle one of the fundamental problems in psychology and neuroscience – how do transient memories of an experience become stabilized and available as long-term memories?  Dr. McNaughton's work will require simultaneous electrical and optical recordings from the hippocampus and neocortex of rodents while they acquire new memories and consolidate these memories into stable, more permanent long-term memories.
Congratulations to Dr. McNaughton and his team and stay tuned for more about this exciting research.